Gracious World Cup Hottie and Host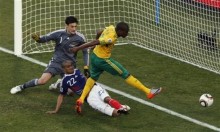 After a series of resignations, firings, and strikes, the French national soccer team ingloriously left South Africa this afternoon after losing to the host nation and scoring only one goal in three games at the World Cup.  Quite a ways for the 1998 champions and 2006 finalists to fall, but they had no business being there, as they were there by virtue of a player knocking in a goal with his hand in a qualifying game against Ireland.  Gallons of ink – both real and virtual – while be spilled in the coming weeks as the navel-gazing French determine what went wrong and the rest of the sporting world laughs at them.  SFL says that Karma is a bitch, you cheese-eating surrender monkeys, and apparently she's Irish to boot.
On to happier notes, hot soccer players. The South African nation and team have been gracious hosts for the tournament, and their players have been exemplars on and off the field. While they didn't qualify for the next round despite beating Les Bleu, they are proud of what they have accomplished.  Their captain, Steven Pienaar told The Guardian, "People can never say we didn't do our best but through football we have brought the whole nation together. We have shown that we are one country and that's all we need to say."
And meet Katlego Mphela, their goal-scoring hottie. That's him above scoring on the Frog goalie.
Sadly, no nekkid photos of him.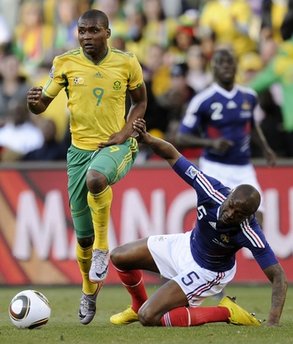 If you couldn't figure it out, he's #9, running away with the ball as the French player tries to pull him down. Fitting. Katlego, why the serious face?
I searched for pictures of crying French players or French fans per someone's (Nabisco's?) request, undoubtedly so we could mock them. All I could find was news articles about how the French fans at the game started cheering for South Africa and booing their own team, and that people watching the game on big screens in Paris were booing their own team.  Issues, folks, they got some issues to work on.
Instead, I found this sweet picture of some South African fans, upset that their team isn't going on. No snarking on these two. And yes, for you non-Sport types, people really do care this much about the game.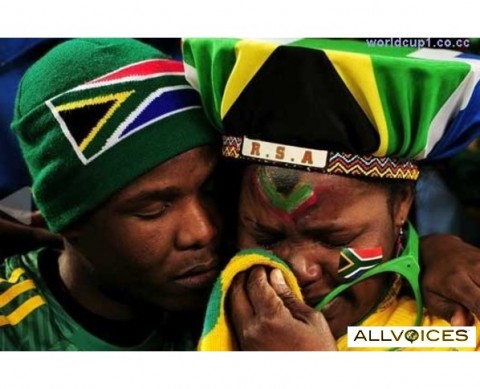 Add a Comment
Please
log in
to post a comment