Stinque Recipe Challenge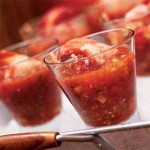 A friend of mine had lobster gazpacho at the Oyster Bar in Grand Central on Friday and loved it.  So how hard can it be? We're about to find out:
Yield: Makes 6 servings
Ingredients
1 1/4  pounds  ripe tomatoes, cut into chunks
1  large red bell pepper, quartered
1  small onion, cut into chunks
2  large shallots, quartered
6  large garlic cloves
3/4  cup  loosely packed cilantro leaves
2  tablespoons  prepared horseradish
2  teaspoons  salt
3/4  teaspoon  freshly ground black pepper
1/4  teaspoon  ground red pepper
2  cups  vegetable juice
1/2  cup  sake
1/4  cup  fresh lemon juice
2  tablespoons  Worcestershire sauce
1 1/4  pounds  ripe tomatoes, chopped
1  large red bell pepper, chopped
1  small cucumber, seeded and chopped
1 3/4  pounds  steamed lobster meat, cut into 1-inch pieces (about 4 [2 1/4-pound] lobsters)
1/2  teaspoon  salt
Preparation
Pulse first 10 ingredients in food processor until finely chopped. Add vegetable juice and next 3 ingredients; process until well blended. Pour into a bowl, and stir in chopped tomato, bell pepper, and cucumber. Cover and chill 8 hours.
Sprinkle lobster with 1/2 teaspoon salt. Divide gazpacho evenly among 6 serving bowls. Top with lobster.
So now the gazpacho is in the fridge – it will chill only six hours, but that should do. Cut the cilantro by about 2/3 – dishes can be overpowered by it. Damn lobster tail cost $17.98. Serve the whole thing with crusty bread – we'll see if it's a hit.
Add a Comment
Please
log in
to post a comment