Bring Out the Comfy Backdrop!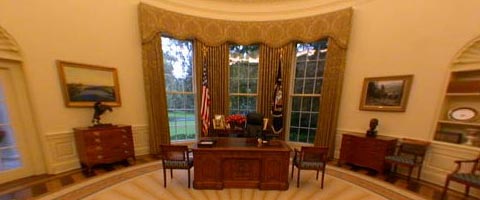 The President of These United States will be delivering a speech from the Oval Office tonight, which we're told is Really Serious — tantamount to Dad turning the car around — because The President of These United States never delivers a speech from the Oval Office, unless he's telling us about a quagmire he's about to launch in the Mideast, or consoling us about a nice schoolteacher who just got blown to bits on live television, or diagnosing the Republic with a serious case of ennui.
Or quits. But that was a Happy Moment.
Apparently The President of These United States will not quit, but instead will tell us about the nasty things being done by people who can't even block an inflated ball with silly giant gloves, and what he plans to do to shut up the damn critics for a cycle hold them responsible for disrupting his pandering about offshore drilling making even more a mess of the Gulf than we've accomplished by befouling the Mississippi.
During the expected fifteen minutes of his speech, the problem will grow worse by approximately 21,875 gallons.
All of which is to say, we're not clear about the purpose of the speech, unless Obama pulls a Steve Jobs, says "one more thing," and announces that bathtub cold fusion will hit the market in thirty days. But that won't stop us from firing up an Open Thread/Grease Revival at 7:45 pm ET and finding out.
Add a Comment
Please
log in
to post a comment