Flag Day's World Cup Hottie of the Day
Since TommCatt was a little meh about Keisuke Honda of the Japanese national team being today's World Cup Hottie of the Day, Stinque's tireless soccer correspondent turned to other continents. While Cameroon's Samuel Eto'o is definitely hawt and usually a terrific soccer player, his team collapsed against Japan.
Thus, SFL turns her lonely eyes to the Continent, where Holland, Sweden, and Italy offer an embarrassment of soccer hottie riches. At the end of the day, it's the Italian team's captain, Fabio Cannavaro, who wins today's award.
The Italians were pretty terrible today against the low-ranked Paraguayans, despite Italy being the returning champs. Fabio is one of the oldest (36 years old) and shortest (5'9″) players in the World Cup, but he still kicks butt, and more importantly, he took his shirt off after the match even though there was a cold winter rain.
Oh, and he once posed with nothing but a soccer ball.  Somewhat NSFW after the jump.
Fabio at rest: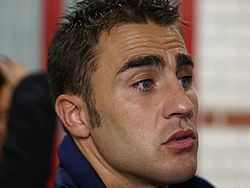 Unfortunately, the FIFA gods will not let me copy down the photo of Fabio taking off his shirt after today's game against Paraguay. Well, actually they would, but Nojo said I'm not supposed to link to URLs as photos, but you can click here to see him shirtless today.
So feast your eyes on this: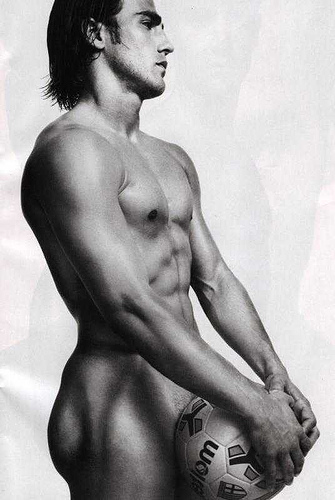 You're welcome, gheyz and girls.
Add a Comment
Please
log in
to post a comment