The Unsinkable Orly Taitz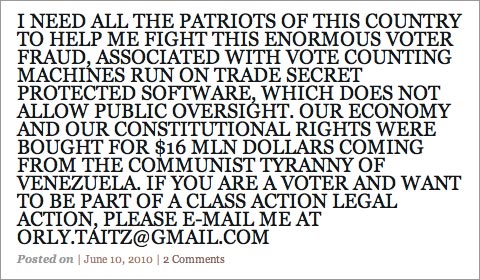 In light of what's going down in South Carolina right now — with not one, not two, but three Demrat primary candidates suspected of being plants by a shadowy, wealthy political conspiracy — why do we choose instead to devote the morning post to failed California Secretary of State candidate Orly Taitz?
Because she's adorable, that's why.
And besides, with events moving so rapidly, we'll probably have some fresh SC developments by the time we wake up.
Clyburn Alleges Conspiracy To Plant Candidates In Three Dem Primaries In S.C. [TPM]
Add a Comment
Please
log in
to post a comment