Rat On Sinking Ship — Meet Water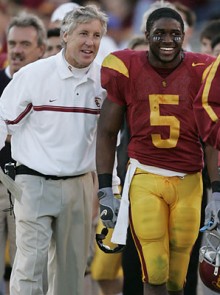 Sad news in the world of real, red-blooded football and not the wussy kind they are going to "celebrate" starting tomorrow: Los Angeles no longer has a professional football team.  The bill for University of Seventh Choice: bowl eligibility yanked, 2005 national championship trophy repossessed, scholarships cut drastically.  ("Scholarship."  There's a turn-of-phrase for you.  But anyway.)
Of course, Pete Carroll (l., with Reggie Bush) won't be around for the downfall, in that he is now coaching the Seattle Seahawks.  He bravely hit the silk after last year's disastrous season (complete with spanking at hands of Tree). 
[Come to think of it, Mr. Bush didn't fare too badly either, what with his fancy new ring courtesy of the Saints' winning the Super Bowl in February.  Sadly, though, Reggie may become the second U$C tailback to be de-Hesimaned.  Impressive, when you think about it.]
But all that needs to be said, really: it couldn't have happened to a more appropriate set of bastards.
Add a Comment
Please
log in
to post a comment