Did the Boob Job Get a Boob Job?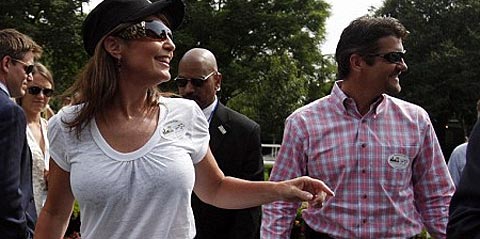 Are they live or augmented? Wingnut blogger TigerHawk summarizes:
Sarah Palin's breasts are suddenly the objects of great interest on the left, not because of their obvious appeal, but as an opportunity to accuse her of having enhanced them with implants. This controversy follows an earlier obsession with Sarah Palin's medical care, the election-year spat over whether she is indeed the mother of her son Trig or (alternatively) was reckless in flying back to Alaska to give birth to him.
While we can't deny that lefty blogs are, um, milking the story for all it's worth, for the record it appears to have originated at the Boston Fox affiliate:
The former Alaska governor was spotted at the Belmont Stakes in New York last weekend looking bustier than usual, prompting many to wonder if she's gotten a boob job.

Palin's newfound perkiness even bumped "Heidi Montag" and "implants" off the most Googled list.
Profile whores Kitty Harris and Michele Bachmann were unavailable for comment.
Add a Comment
Please
log in
to post a comment