When We Were 19, It Was a Very Good Year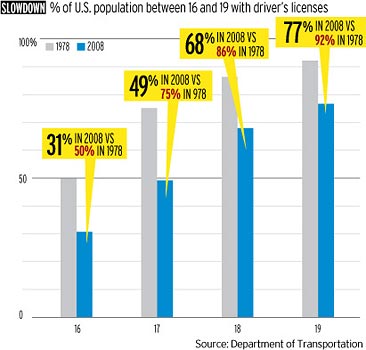 The presenter of this chart argues that the Internet has fucked up the instincts of American Youth for a good ride. But what catches our fogeyish attention is the base year, where we're stuffed in the far-right gray column:
It's a rarely acknowledged transformational shift that's been going on under the noses of marketers for as long as 15 years: The automobile, once a rite of passage for American youth, is becoming less relevant to a growing number of people under 30.
As we've observed before, the Seventies Teens on that chart lived through the 1973 gas crisis, and have no excuse for seeing that the future will be a lot different than the past. (Although the Gulf Oil stop-motion commercials were really cool.) But as far as a "rite of passage", well, you try living on the edge of town with a bike.
Add a Comment
Please
log in
to post a comment