We've Seen That Movie Too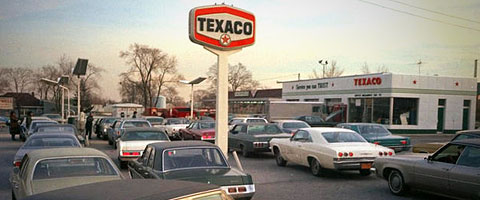 We've mentioned in passing that like the generation that grew up in the Depression, being 14 when the 1973 gas crisis hit changes your outlook on life, or at least that part of life dependent on motor vehicles. This is the world moving forward, you think. Best not to get too tied to it.
We also use October 1973 to start the clock, when America was put on notice. And with that clock now approaching thirty-seven years — we should have used a calendar instead — we have no reason to be shocked, Shocked!, to learn that not only do old habits die hard, they don't die at all:
Interior Secretary Ken Salazar dug in to defend the administration's drilling plans last week. "We should be honest with ourselves. … We are dependent on oil and gas and we will be," Salazar told senators. "As an economy in transition, it's something that we need to do." Obama, too, reaffirmed his belief that offshore drilling should remain in the country's energy portfolio in his weekly address Saturday.

But the Obama administration is basing this argument on a dubious premise — that more drilling will enhance the nation's energy security. Yet drilling offshore here will not do much in that regard, or at least not nearly as much as smarter use of oil would. The U.S. uses 23 percent of total world oil consumption, but has only 3 percent the world's oil reserves within its borders. Drilling off every coast in the U.S. won't resolve that issue. Even the most productive portion of the new area opened to drilling in the March announcement, a 24 million acre area of the eastern gulf, is expected to yield only 3.5 billion recoverable barrels of oil. The U.S. consumes 19.5 million barrels of oil per day, which means that these wells would only produce about 180 days worth of oil — hardly worth the catastrophic situation we face in the gulf today.
Barack Obama was 12 when the first gas crisis hit. Sarah Palin was 9. None of us have any excuses for ignoring one of the defining facts of our lives.
Add a Comment
Please
log in
to post a comment