Arizona Reclaims the Crown in Stunning Douchebag Upset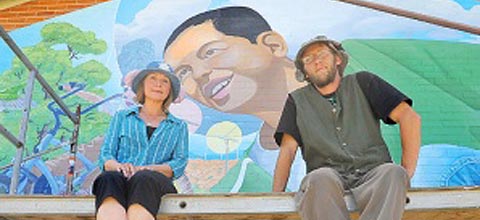 No sooner do we note that South Carolina wants its Douchebag Trophy back from Arizona, than Arizona steps up to the plate:
A group of artists has been asked to lighten the faces of children depicted in a giant public mural at a Prescott school.

The project's leader says he was ordered to lighten the skin tone after complaints about the children's ethnicity. But the school's principal says the request was only to fix shading and had nothing to do with political pressure.
No, nothing at all. Not the "people shouting racial slander from their cars" while children painted, not the city councilman who complained that "the biggest picture on the building [is] a Black person" (actually Latino, but who's counting), none of that.
Worst part?
Faces in the mural were drawn from photographs of children enrolled at Miller Valley, a K-5 school with 380 students and the highest ethnic mix of any school in Prescott.
That's right: The civic leaders of Prescott, Arizona, are shitting on their own kids. We're sorry, South Carolina, but you're just gonna have to try harder.
Add a Comment
Please
log in
to post a comment