Drudge Junior Captures Mullah Omar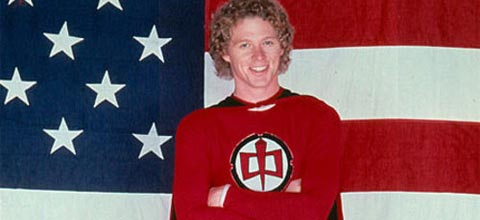 We noticed this Monday, noticed it again Tuesday, and now we notice that few others seem to be noticing. Which makes perfect sense, given the source, but is also very odd — and for the same reason. So let's start with the news, and take it from there:
Through key intelligence sources in Afghanistan and Pakistan, I have just learned that reclusive Taliban leader and top Osama bin Laden ally, Mullah Omar has been taken into custody…

At the end of March, US Military Intelligence was informed by US operatives working in the Af/Pak theater on behalf of the D.O.D. that Omar had been detained by Pakistani authorities. One would assume that this would be passed up the chain and that the Secretary of Defense would have been alerted immediately. From what I am hearing, that may not have been the case.

When this explosive information was quietly confirmed to United States Intelligence ten days ago by Pakistani authorities, it appeared to take the Defense Department by surprise. No one, though, is going to be more surprised than Secretary of State Hillary Clinton. It seems even with confirmation from the Pakistanis themselves, she was never brought up to speed.
Well! Congratulations to all involved! But why isn't anybody bragging about it?
The first thing you should know is that the Exclusive! was posted on Big Government, home of the Acorn Pimp, and part of Andrew Breitbart's wingnut meme factory. Breitbart himself toiled as "Matt Drudge's bitch" before launching his Embiggened Blog Network.
The second thing you should know is that the author of the post is Marvel Universe castoff Brad Thor, who needs no introduction, because it's your fault you've never heard of him:
Brad Thor is the #1 New York Times bestselling author of numerous thrillers including The Last Patriot, which was banned in Saudi Arabia and nominated Best Thriller of the Year by the International Thriller Writer's Association, and The Apostle, for which he shadowed a black ops team in Afghanistan. Brad has served as a member of the Department of Homeland Security's Analytic Red Cell Program and has appeared on FOX News Channel, CNN, ABC, CBS, NBC, and PBS to discuss terrorism, as well as how closely his novels of international intrigue parallel the real threats facing the world today.
So, our author is a recognized master of making shit up. Even that awesome-sounding but unexplained "Analytic Red Cell Program" is really just a series on daylong focus groups convened to make shit up for the amusement of DHS bureaucrats:
"When I got the call, I was floored," said Brad Meltzer, the author of several successful Washington thrillers, recalling his talk with the Homeland Security official who recruited him. "They said, 'We want people who think differently from the ones we have on staff.' "
Sounds like fun! Does everyone get a certificate of achievement at the end of the day?
But back to our story: We have a post written by a professional fabulist, on a website best known for doctored faux-pimp videos. We can't imagine why the lamestream media hasn't run with it! Perhaps they're too busy chasing down Perez Hilton's latest exclusive on Castro's death.
Big Government Takes A Big Gamble By Sticking To Report Of Mullah Omar's Capture [Mediaite]
Add a Comment
Please
log in
to post a comment