Stinque Recipe Challenge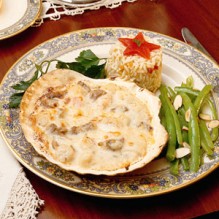 Tonight, another recipe from Mastering the Art of French Cooking: Shrimp Mornay. First, the bechamel:
Ingredients
2 tablespoons unsalted butter
3 tablespoons flour
2 cups hot milk
Salt and freshly ground white pepper
Pinch of nutmeg
Directions
Melt the butter in a heavy saucepan, blend in the flour with a wooden spoon, and cook over moderate heat, stirring, until butter and flour foam together for 2 minutes without turning more than a buttery yellow color. Remove from heat, and when bubbling stops, vigorously whisk in all the hot milk at once. Bring to the boil, whisking. Simmer, stirring, for 2 minutes. Season to taste.
Let the bechamel cool for a few minutes. Whisk in 1/4 cup cheese for each cup of sauce, usually swiss or swiss and parmesan. Voilà – sauce mornay.
My plan is to saute the shrimp in butter, then put the dish into ramekins and gratiné it in the bottom of the oven. I haven't decided whether to sprinkle the top with breadcrumbs, like you would when preparing Coquille St. Jacques.
Add a Comment
Please
log in
to post a comment