Veal Prince Orloff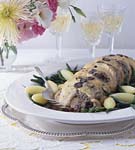 Might put aside my dislike of veal for this:
Veau Prince Orloff, pp. 355-357
Veal Gratinéed with Onions and Mushrooms
Épinards au Jambon, p. 470
Spinach with Ham
Between the classic Mary Tyler Moore dinner party episode, and what's written about it on the intarweb, Veal Prince Orloff seems to be a very misunderstood dish. Let's debunk!
"Mary, do you know what happens if you overcook a Veal Prince Orloff? Hedies!"
Not hardly! This is a chafing-dish champion if there ever was one. First of all, I was outside enjoying a well-deserved glass* of YT on the deck when the oven timer dinged, and by the time I got back into the kitchen to rescue the Prince, he was at a shocking ten degrees past done. Still quite lovely and pink inside, though; and since this is something that once assembled is reheated in the oven and has enough fat to make a goose blush, it can hold for quite a while in a warm oven.
"Mr. Grant, you took half!
Mary's dinner party was for six, they ended up with seven people when Rhoda showed up with a date. Lou Grant took "half," which meant three slices, since she had just enough for the six original guests. That must have been one hell of a small roast. The five-pounder I started with wasn't even half finished by seven people, each of whom had at least one slice of veal. A closer look at my photos shows that there were twenty slices to that five pounds, or four slices per pound. A veal roast that would give you a mere six slices would weigh one and a half pounds; in other words, really tiny. I know meat was super expensive in the 70s, and money was tight, but come on!
"…takes an entire day to assemble… …incredibly labor intensive… …took two days to make… …six pages of instructions…"
These people are exaggerating wimps who don't belong in the kitchen, lying –lying about Julia!–to make themselves into pitiable martyrs, and I hate them for it. Granted, this wasn't shoving a Lean Cuisine into the microwave, but it certainly wasn't cassoulet, either.

Let's talk about what it is: a tad ridiculous, and totally delicious.
Start by roasting the veal in the standard way — brown all the sides, throw in some bacon, onions, carrots and an herb bouquet; put in oven, baste it now and then. [Ah, me! So difficult…] While that's in the oven, par-boil a little rice, then throw that together with a sliced onion and more butter; put in oven. Squeeze the water out of minced mushrooms, sauté with butter and then some minced shallots; correct seasoning and set aside [do you need to sit down now? feeling faint?]. Pureé now cooked rice and onions with a little cream, mix with mushrooms; set aside. Roast is done; set aside. Remove vegetables from roasting pan, add milk until you have three cups of liquid, beat into a buerre manie(butter and flour); set aside. Slice now-cooled roast into an oven-proof dish. Lay a slice, add a little salt and pepper, smear some of your mushroom mixture on it, lay down another slice; repeat until done.

Bring that sauce to a simmer, add some Swiss cheese and maybe some cream, pour on reconstituted roast. [This was the point I started giggling insanely…] Grate some more cheese on top and a little melted butter, pop back in oven about forty-five minutes before you want to eat. TA FUCKING DA.

I started at two-thirty on Saturday afternoon, and by five, everything was done save the final assembly — including the dishes. That's two-and-a-half hours, INCLUDING THE DISHES.

Sunday morning, I sliced the roast, stuffed it, and bathed it in cheese sauce — and was in the shower thirty minutes after I started. So: that's three hours of hands-on time, total. Not too shabby, given how obnoxious it seems, and given the drama of the results. Certainly not two days, and nowhere near the high end of the KitchInsanity Scale™.
The Prince is quite rich, and so I served him with simple asparagus and a family holiday favorite, endive salad**. It was a big hit and the Augey Bordeaux white (2004, $7.99 @ Woodman's) complimented it nicely. I served the spinach with ham the next evening with the leftovers, and it was very good and came together quite quickly. Be forewarned that you will need one bag of fresh spinach per person, as it quickly cooks down into nothing.
Equipment note: JC indicates that you will need a fireproof dish in which to assemble the veal. I took this as meaning something that could withstand direct flame –as there are numerous dishes that must go from stovetop to oven to broiler in the same pan– and used my LeCreuset enameled iron baker. This never went on the stove, and if there is a next time, I will just use Pyrex.
*having also cleaned the house and run several errands before even starting
**which didn't have endive in it this year, on account of the grocery stores sucking
Add a Comment
Please
log in
to post a comment