Nashville Picked the Wrong Week to Quit Being Dry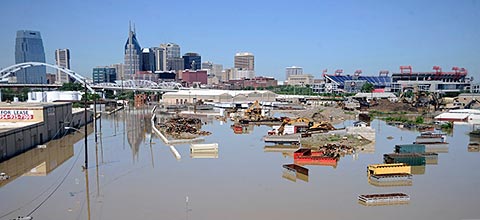 So we've got a major oil spill, a failed terrorist bombing, Leno bombing at the White House Correspondents Dinner, even Rent Boys terrorizing good Christians — what's left?
Oh:
Powerful thunderstorms across the Southeast over the weekend drenched the region with heavy rains and left at least 24 people dead in Tennessee, Kentucky and Mississippi, including 10 people in the Nashville area. Though the rain tailed off late Sunday night here, runoff continued to pour into the Cumberland River, which crested at 51.8 feet on Monday evening.

By Tuesday morning, the water level had already fallen by a foot and was expected to fall by another 11 feet in the next 24 hours, according to Kris Mumford, a public information officer for the Nashville Metro Police Department.
The Grand Ole Opry is moving performances to dry ground, the first time they've closed since the 1975 Cumberland River flood. Even the exquistely named Gaylord Opryland Resort, home of a recent teabagger convention, was evacuated Saturday night and won't reopen for several months.
Any other week, this would be the national news story, with network correspondents helicoptering in and bloggers debating whether global warming is to blame for the storms. But this week? Line forms at the rear, folks.
Add a Comment
Please
log in
to post a comment