Quote for the Day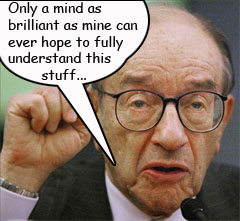 Hubris is one thing, but this is something altogether different… hubris, coupled with arrogance and an unbelievable contempt for the great unwashed masses that can't possibly understand the things you do and so must be kept in the dark (lest they do themselves harm, you understand).
In 2004 a debate raged inside the Federal Reserve as to whether the U.S. was entering a dangerous housing bubble. Alan Greenspan's response? Such discussions had to be suppressed. No word of these concerns should leave the ivory confines of the Federal Reserve. The natives, you see, just wouldn't understand…
We run the risk, by laying out the pros and cons of a particular argument, of inducing people to join in on the debate, and in this regard it is possible to lose control of a process that only we fully understand.
Of course, in retrospect, the most absurd aspect thing about this quote is that Greenspan was worried he might "lose control" of something as irrationally driven and wildly out-of-control as an economic bubble. Was his "understanding" really any different from that of a witch doctor ordering virgins to be thrown into the mouth of a volcano, worried that if he should offend the gods by not doing so, the mountain will erupt?
Add a Comment
Please
log in
to post a comment