This Explains Those Wild Drunken Scrabble Parties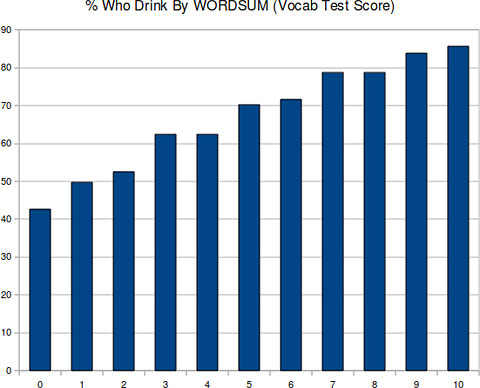 Playing a hunch, Razib Khan futzes with the General Social Survey and discovers what we all knew about the relationship between alcohol and awesomely smart people like us:
I was expecting it. That is, that the more intelligent, who scored high on a vocabulary test, would drink more than the dumb, who scored low.
New Englanders can drink the rest of us under the table, by the way. And Catholics? Don't get them started.
Khan includes other charts for study, if you're sober enough to view them. And he doesn't sign off before providing a scientific basis for the Darwin Awards:
It's just a fact that stupid people tend to die earlier, because they often make life decisions in keeping with their nature.
Unfortunately, that also goes for countries.
Add a Comment
Please
log in
to post a comment