Horsies!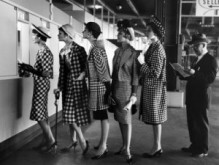 Yes, kids — it's Derby Day again!  And as is tradition, we have for you the Kentucky Derby Open Thread.  Because it can't be all ecological disasters and Republican dumbfuckery and totally-random traffic stops in Phoenix here at Stinque.  After all: degenerate gambling, especially on Sport, is what makes America great.  (That, and the Bill of Rights and the ample amounts of food and  the national parks and all that.)
Handicapping this is a total mess, because the track is… a total mess.  Rain — lots of it — hit Louisville overnight, and is forecast to continue.  My best guess at it is Super Saver, Devil May Care (a lady horse!) and American Lion (4-11-7 on your picksheets).  But with the usual twenty-horse field, it's a total guess.  (Dartboards, oddly enough, have twenty divisions, which are numbered for your convenience.  Have at it.)
Post time at 1828 ET.  Fire away.
Add a Comment
Please
log in
to post a comment