My Other Truck is on Concrete Blocks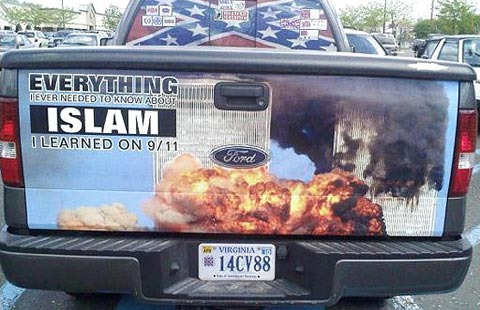 Poor Douglas Story. He blows $224.90 on some 9/11 porn for his tailgate, installs a Confederate Loser flag in his rear window, and all everyone cares about is his fucking license plate:
But he got more than he bargained for when a photo of his pickup went viral on the Web last week. Motorists and Muslim groups complained that his Virginia vanity license plate — 14CV88 — was really code for neo-Nazi, white supremacist sentiments. The state Department of Motor Vehicles voted last week to recall Story's plates and force him to buy new ones.

"There is absolutely no way I'd have anything to do with Hitler or Nazis," Story said Wednesday… "My sister-in-law and my niece are Jewish. I went to my niece's bat mitzvah when she turned 13 three years ago. Does that sound like something an anti-Semite would do?"
It's true: While the Venn diagram of anti-Semites and Raging Assholes does show significant overlap, you can be the latter without the former. And that neo-Nazi "1488" reference is an innocent mistake — NASCAR's Tony Stewart drives #14, while Dale Earnhardt Jr. handles #88.
Oh, and the CV? "Sons of Confederate Veterans". Great-great-great-grandpappy fought valiantly for the slavedrivers.
Update: Say, let's check Doug's Facebook page…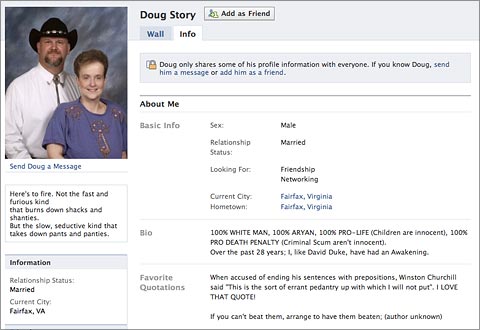 What's that tiny type say?
100% WHITE MAN, 100% ARYAN, 100% PRO-LIFE (Children are innocent), 100% PRO DEATH PENALTY (Criminal Scum aren't innocent).

Over the past 28 years; I, like David Duke, have had an Awakening.
Ah. We'll still give you the "1488", Doug. Truth be told, we really don't need it.
Add a Comment
Please
log in
to post a comment