By the Time I Make Albuquerque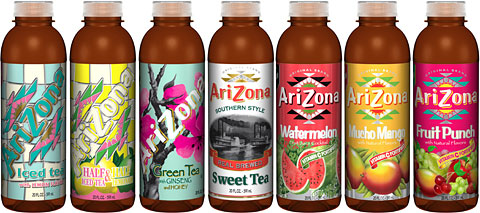 @jody_beth, 11:29 p.m. Monday:
Dear Arizona: If you don't change your immigration policy, I will have to stop drinking your enjoyable brand of iced tea. RIP Arnold Palmer.
@travisjnichols, 3:04 p.m. Tuesday:
I think we should all also boycott Arizona Iced Tea because it is the drink of fascists.
Daily News, 4 a.m. Wednesday, quoting only the above tweets:
Opponents of immigration law call for boycott of Arizona Iced Tea – but it is brewed in New York!
JamieWearingFool, 7:45 a.m.:
The kneejerk haters need to do a little research before they reflexively call for boycotts. The uninformed pantywaists who haven't the slightest clue about Arizona's new law are running around calling for boycotts far and wide and have now called for a boycott of Arizona Iced Tea.
Moonbattery, 8:25 a.m.:
It's not easy to parody the folks who brought us Barack Hussein Obama. Moonbats are so enraged at Arizona for attempting to enforce federal immigration laws before the entire state turns into New Juarez that they are boycotting Arizona Ice Tea.
SFGate, 12:21 p.m., quoting a letter sent to Arizona Beverage Co.:
In a small effort to help support the businesses in Arizona we have decided to only purchase Arizona tea for our employees. While we cannot control their drinking habits, we can make it the only company provided beverage.
CBS, 2:50 p.m.
Also under fire in some quarters is Arizona Iced Tea. Its label says is brewed by the Arizona Beverage Co.
AP, 3:42 p.m.:
An initiative apparently started on the Internet asks people to boycott the AriZona Beverage Co. because of claims the law will unfairly target Hispanics.
Albany Times-Union, 4:49 p.m.:
If you pushed the panic button in your protest of Arizona's combative new immigration law and are hovering over the kitchen sink, prepared to pour your entire 24-pack of sugar-free peach-flavored Arizona Iced Tea down the drain, Long Island Senator Craig Johnson wants you to stop immediately and consider one important fact: The Arizona Beverage Company is actually based in Nassau County, and employs hundreds of New Yorkers.
Sister Toldjah, 5:01 p.m.:
Fanatical left wing immigration bill opponents call for a 'boycott' of AZ Iced Tea, but…
Hannity.com, 6:33 p.m.:
Liberals across the country are up in arms about the passage of the Arizona immigration bill. There have been calls for the boycott of the state and of its products, including Arizona Iced Tea.
AriZona Beverage Co., Wednesday afternoon:
We have become aware of misinformation being circulated about AriZona Beverages and we would like to make sure statements about our company are correct. As many of you know, AriZona Beverages proudly traces its origins back to New York.
@jody_beth, 6:09 p.m.:
BTW my Arizona iced tea post was using an advanced literary device called HUMOR. Maybe you've heard of it.
@travisjnichols, 8:34 p.m.:
Hilarious: Because "it is the drink of fascists" is obviously meant in earnest! Also the jeans of fascists? Arizona!
Damn. Time was when we'd kill for a joke to go viral like that.
Add a Comment
Please
log in
to post a comment