Stinque Recipe Challenge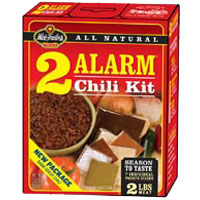 For 30 years I've been cooking chili recipe after chili recipe to find the best one. In all that time, I've never found one that turns out as good as Wick Fowler's chili kit.  So a couple weeks ago I gave up, ordered a case, and now there's 4 pounds of chili on the stove.  Gonna eat some, freeze some, and take some down to my doorman. Dinner will be a chili mac. More after the jump.
The recipe says to cook it for half an hour.  I add two extra cans of red wine and slow cook it in a Dutch oven for about 3 hours – much tastier and more tender.  Also, I dice a red pepper and add that during the last hour of cooking, as well as a can of corn (drained).  Serve over spaghetti or macaroni and top with grated cheddar and chopped red onion. Heaven.
From the package:
Directions:
Combine Ingredients in Package with: 2 lb of ground beef; 1 – 8 oz can of tomato sauce; 2 – 8 oz cans of water. 1. Brown 2 lb of ground or cubed beef. Drain fat. 2. Add the following and stir: 1 – 8 oz can of tomato sauce; 2 – 8 oz cans of water; seasoning packets (salt optional), except packets labeled Red Pepper and Masa Flour. For hot chili stir in the entire red pepper packet; for medium chili add 1/2 the red pepper packet; for mild chili omit red pepper. 3. Cover and simmer 30 min or until meat is tender, stirring occasionally. For thicker chili, stir Masa Flour into 1/4 cup warm water. Stir into chili and simmer 15 to 20 minutes. Make it your own by adding one or more of the following: Chopped onion or green peppers when browning the meat; 1 – 15 oz Can of kidney or pinto beans; 1 – 15 oz Can diced tomatoes (drained); Top it off with shredded cheese or sour cream. Makes 6 – 8 oz servings.