Meatballs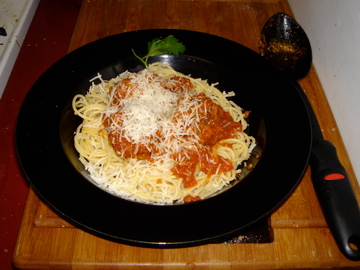 Mellbell wanted to see how the raisin and pine nut meatballs came out last night, so here it is … recipe and commentary after the jump.
I generally make the meatballs with ground sirloin instead of turkey, but either way is good. Since the sauce is a bit of work, I generally make a double recipe – it freezes very well. I made the batch you see here last Sunday and just defrosted some last night before I made the meatballs. This is a modified Lidia Bastianich recipe – it has disappeared from her webiste, so no link. I found it here and messed with it to reflect what I do (and what I remember about how Lidia did it on TV):
For the Soffrito:
2 TB Olive Oil (I use more)
1 Medium onion, run through the food processor until fine, like a paste almost.
1 Shallot, same as the onion
2 Garlic cloves, same as the onion
1 Carrot, same as the onion
1 Celery stalk, same as the onion (I use 2).
2 Bay leaves
¼ cup tomato paste
Run the onion and shallot through the food processor. Set aside. Run the carrot and celery through the food processor. The garlic can be pushed through a press.
In a large skillet (I use a Dutch oven) heat the olive oil over high heat. Add the onion/shallot mixture. Stir for two minutes until the onions are sizzling. Add the garlic in a hot spot of the pan, as the aroma is released, stir into the onions so that the garlic doesn't burn. Add the tomato paste in a hot spot and get it browning on the edges. Add the carrot/celery mixture. Stir together and cook for 4-6 minutes, until everything is starting to dry out. Lower heat to prevent burning, if necessary.
For the Sugo:
1 can (14 oz) of whole, peeled tomatoes, run through the food processor to form a thick sauce (this amount is half the standard 28 oz can, so making a double recipe makes sense).
1 can (8 oz) tomato sauce
2 cups chicken broth
Salt/Pepper
1 Cinnamon stick
1 tsp dried thyme
Pinch or two of red pepper flakes
At this point in the soffrito, add the processed whole tomatoes and tomato sauce, broth, cinnamon stick, thyme, red pepper flakes. Add salt and pepper to taste.
Allow pan to simmer for an hour, stirring every 20 minutes. I left the pan covered, but slightly ajar to allow the sugo to reduce. OR:
Do what I do, which is slow cook it in a heavy Dutch oven, like a Le Creuset, for 3 hours on very low flame. Last night I reheated in a pan: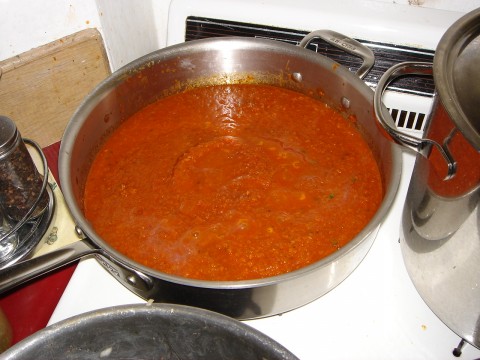 For the Turkey Meatballs:
1 lb ground turkey (or sirloin)
1 TB olive oil
1 small onion, finely diced
½ tsp salt
2.5 tablespoons Panko or other breadcrumbs
1 large egg
Fresh black pepper
½ cup golden raisins, soaked in water, then squeezed dry, discard water
½ cup pine nuts, toasted
Small handful flat leaf parsley, chopped finely
Combine all ingredients in a large bowl. Form meatballs to your preferred size.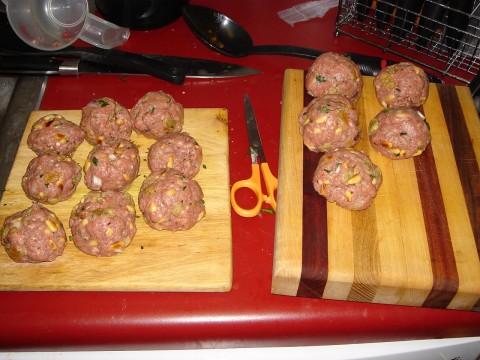 So, form all the meatballs, be gentle, don't handle them too much.Once formed, the meatballs need to be dusted in flour. Place a cup or two of flour in a bowl. Add a few meatballs at a time, gently toss to coat with flour, tap to remove excess flour.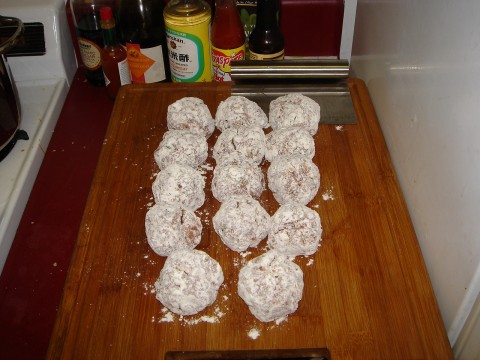 Meanwhile, in a second skillet, add vegetable oil, filling about 1/3 full. Turn heat to high. When HOT, start adding your meatballs, gently, cautiously.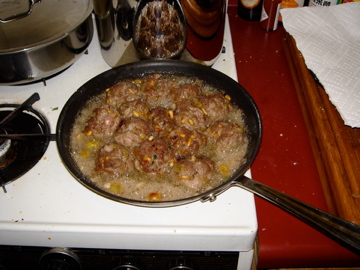 Allow to cook for about two minutes on one side, then turn over and get the second side….you are only doing this to cook the outside of the meatballs. When done, remove to a paper towel lined plate. Continue until all the meatballs are cooked.
About this time, your sugo will have cooked for an hour. Now, gently lay your meatballs into the sugo. Spoon some sugo over the meatballs so they are coated. Add some water if the sugo doesn't come to at least ½ way up the meatballs. Cover the pan and allow to slowly simmer for about 30 minutes. Note – in this picture, you see the meatballs … if you cook the sauce and the meatballs at the same time, they will be submerged. I just turned them halfway through.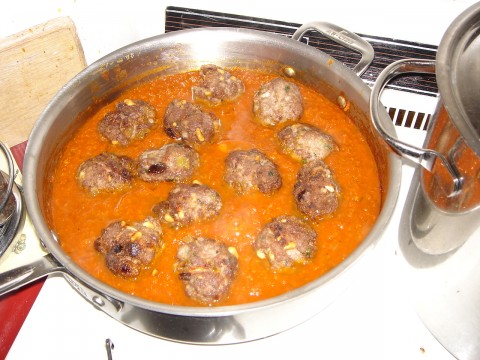 Serve over spaghetti (or linguine) and a sprinkle (or shitload) of parmesan (or grana padano).
Add a Comment
Please
log in
to post a comment