Easter Message: The Pope is $#@% Awesome!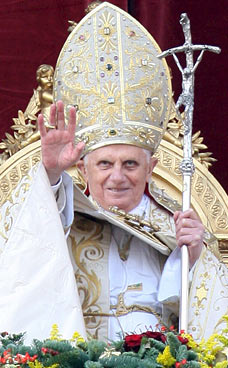 As evidence continues to surface and charges continue to fly that high officials of the Catholic Church, including Pope Benedict shielded pedophile priests while threatening their victims with excommunication, the church itself wants you to know that everything is hunky dory:
VATICAN CITY (AP) — A senior cardinal staunchly defended Pope Benedict XVI from "petty gossip" on Sunday as the pontiff maintained his silence on mounting sex abuse cover-up accusations during his Easter message.
Petty gossip, you see. That's all it is. One wonders what malicious gossip might look like?
"With this spirit today we rally close around you, successor to (St.) Peter, bishop of Rome, the unfailing rock of the holy church," Sodano said. "Holy Father, on your side are the people of God, who do not allow themselves to be influenced by the petty gossip of the moment, by the trials which sometimes buffet the community of believers."
Of course such trials can be avoided, can't they? All we need do is hide the evidence, silence the victims, and shuffle the offenders off to a different diocese.
In early evening, the pope, who turns 83 later this month, was to fly by helicopter to the papal residence in Castel Gandolfo, a lakeside retreat in the Alban Hills southeast of Rome, where he will greet pilgrims from the palace courtyard balcony on Monday.
Shortly after the blessing, an electromagnetic bottle of anti-matter will be discovered nearby, whereupon the Pope will snatch it from authorities, climb aboard the helicopter and safely dispose of it at 10,000 feet altitude before parachuting to the ground.
All this nonsense about pedophilia will be quickly forgotten.
Happy Easter, Stinquers!
Add a Comment
Please
log in
to post a comment