Cal & Bob's Bogus Journey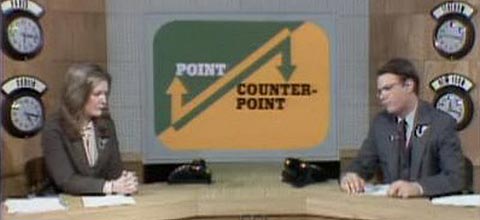 Cal Thomas, a "conservative columnist," and Bob Beckel, a "liberal Democratic strategist," debate for USA Today whether "our noisy democracy can handle the right-leaning Fox." Let's listen in!
Cal: We've been around politics long enough to know that an "enemies list" was not unique to Richard Nixon. Liberals and conservatives love to paint each other as destroyers of the country to raise money, get votes and build ratings. But this year's drumbeat against Fox News — where I occasionally am paid to appear — is liberal paranoia on steroids.

Bob: Full disclosure is required here, as I am paid to appear on Fox News a good deal and have for five years. As a longtime liberal, I have taken much heat for doing so. The questions I get invariably focus on Glenn Beck, Bill O'Reilly and Sean Hannity. It's no secret Hannity is conservative, and O'Reilly certainly is not a liberal. Beck goes well beyond conservatism to some very strange places. Liberals focus on just these three, though, and fail to recognize superb journalists like Brit Hume and Chris Wallace, among many others.
Spoiler alert: Cal and Bob agree that Fox is fine and dandy.
Next week, Charles Manson and Ted Bundy debate the ethics of mass murder. You'll be surprised what they think!
Add a Comment
Please
log in
to post a comment