Drill, Orly, Drill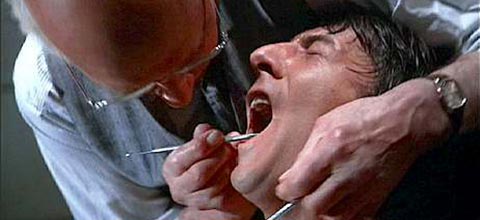 Judicial deadbeat, California Secretary of State candidate, real-estate agent, and Demon Dentist Orly Taitz is padding her overflowing resume with a new item: healthcare-reform victim. All those Republican state AGs don't hold a candle to the master's lawsuit:
VIOLATION OF COMMERCE CLAUSE AND OF PLAINTIFF'S RIGHTS TO GAINFUL EMPLOYMENT AS A DOCTOR OF DENTAL SURGERY UPON DEFENDANT'S IMMINENT SIGHNING OF THE HEALTH BILL

Health bill, as being prepared and reconciled, will create an enormous machine of governmental burocracy which will intrude into Plaintiff's practice, will affect her doctor-patient relations, will undermine her Hippocratic oath, will force her to ration medical care and de-facto deny medical care to elderly, whom some committees of burocrats will deem to be too old to receive such care, meaning too old to live.

Such bill will subject her to threat of multiple Medical-Dental malpractice legal actions as standard of care will clearly go down.
Also, in case you were wondering, "Senator Ben Nelson of Nebraska got an infinity amount of dollars de facto bribe to sign the Senate version of such bill."
(Sic sic sic sic sic. You can't improve on the original.)
In related news, California is considering an open-primary initiative, which would allow folks to vote for candidates of either party. We're not yet sure what to think of it, but the opportunity to help Orly reach the fall ballot is very tempting, just for the entertainment value.
Add a Comment
Please
log in
to post a comment