HCR Temper Tantrums… cont.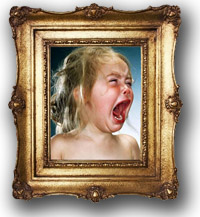 A selection of GOP temper tantrums, posted for the edification and amusement of my fellow Stinquers, with wry and amusing observations to follow:
Infantile wail: "There is no downside for Republicans,"Michael Steele, the Republican National Chairman said Monday in an interview. "Only for Americans." (NYTimes 3/23/10)
Observation: We always knew Republicans weren't really Americans.
Infantile wail: "We have an obligation to vote, at the end of the day, based on whether we believe it's the right direction, the wrong direction, not withstanding some former Bush staffer. Remember, President Bush was the administration that got us voted out of office. They were the big spenders. So the credibility of the Bush administration on domestic economic policy ain't so good, period. And this is an unaccountable person." – Rep. Darrel Issa, responding to G.W. Bush speechwriter David Frum's criticisms of GOP obstructionism.
Observation: Issa seems to imply that he had nothing to do with the Bush administration's $5 trillion of accrued debt, yet he has been serving in congress since 2001, the year Republicans took the presidency and began instituting the very fiscal policies that turned a $200+ billion dollar budget surplus into 2008's $1.2 trillion deficit. Furthermore, according to legistorm.com, far from reforming his spendthrift ways, over the past 3 years alone Issa has himself been responsible for seeking over $131,000,000 in budget earmarks.
Infantile wail: "There will be no cooperation for the rest of the year. They have poisoned the well in what they've done and how they've done it." –John McCain, who in his wisdom, grace and courage, introduced the world to Sarah Palin in 2008.
Observation: And this changes things, how exactly? Still, if you want to take your ball and go home because the other team scored a touchdown, then go ahead Johnnie. I'm sure mommie will be more than happy to make you a cup of hot cocoa and play Go Fish with you all day.
Infantile wail: "The Obama-Pelosi-Reid machine combined the radicalism of Alinsky, the corruption of Springfield and the machine power politics of Chicago." Newt "Clinton impeachment FAIL" Gingrich, sounding stupider than usual.
Observation: That's why we're going to crush you and your puny party, Newt… and sow your legislative fields with salt; because we're radical, and ruthless and deep-dish.
Infantile wail: "Anyone who doubts the abortion tsunami which awaits this bill becoming law lives in a fantasy world." Phyllis "before there was a Michelle Malkin" Schlafly makes a prediction.
Observation: OK, Phyllis… I'll take that bet. But what will you give us when your fantastical "abortion tsunami" inevitably fails to materialize?
Infantile wail: "On behalf of the State of Florida and of the Attorneys General from South Carolina, Nebraska, Texas, Utah, Pennsylvania, Washington, North Dakota, South Dakota and Alabama if the President signs this bill into law, we will file a lawsuit to protect the rights and the interests of American citizens." -Florida Attorney General Bill McCollum
Observation: Here are the numbers of uninsured from 2006-2007 for each of the aforementioned states: Florida – 20.7%, South Carolina – 16.2%, Nebraska – 12.8%, Texas – 24.8%, Utah – 15.1%, Pennsylvania – 9.8%, Washington – 11.6%,  North Dakota – 11.1%, South Dakota – 11%, Alabama – 13.6%.
"Are we now in a world where there is absolutely no recourse to the tyranny of the majority? Republicans and other opponents of the bill did their job on this; they persuaded the country that they didn't want this bill. And that mattered basically not at all. If you don't find that terrifying, let me suggest that you are a Democrat who has not yet contemplated what Republicans might do under similar circumstances. Farewell, Social Security! Au revoir, Medicare!" The Atlantic's Megan McArdle (via Tapped).
Observation: Please, Megan, this is too stupid an observation to even contemplate. May I suggest that in the future you wait until the tears have dried off your pillow and the hangover has subsided before putting pen to paper. And if you think the GOP has ever given a rats ass about the "tyranny of the majority" while they were the party in power, then I have just one word for you: Iraq.
Infantile wail: "…it is an historic usurpation of the legislative process — he unleashed the nuclear option, enlisted not a single Republican vote in either chamber, bribed reluctant members of his own party, paid-off his union backers, scapegoated insurers, and justified his act with patently fraudulent accounting. What Barack Obama has ushered into the American political landscape is not good for our country; in the words of an ancient maxim, 'what starts twisted, ends twisted.'" – Mitt Romney, from a statement calling for the repeal of HCR.
Observation: Methinks the lady doth protest too much. Seriously, Mitt, you should be flattered that the Democrats chose to take your Massachusetts plan national, not panicked about what that means for your chances in the 2012 GOP primary.
Add a Comment
Please
log in
to post a comment