Wingnut of the Day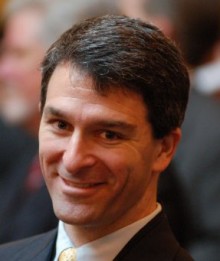 Virginia's AG says he'll sue if HCR passes:
You know, the one who told Virginia universities it was okay to discriminate against gay students? Or how he told Virginia residents that he thought he could challenge Obama's presidency based on his birth place? Or how he said he wasn't getting a Social Security number for his kid because it's being "used to track you"? That's the guy, freakishly right wing, birther numbskull Virginia Attorney General Ken Cuccinelli.
So he's got 1) birther credentials; 2) hatred of teh gayz; and 3) a tinfoil hat. Wonder if he's a deather as well.
Add a Comment
Please
log in
to post a comment