To John Yoo, Thanks for Everything! Barack Obama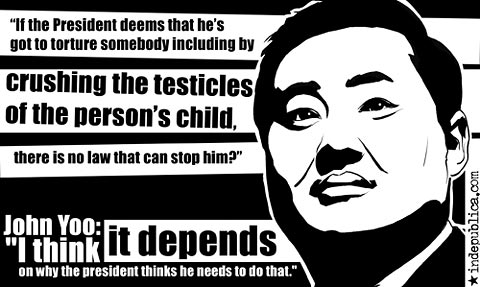 Dude would be smart to keep his head down, but noooooo…
Barack Obama may not realize it, but I may have just helped save his presidency. How? By winning a drawn-out fight to protect his powers as commander in chief to wage war and keep Americans safe.
No, wait — John Yoo's cri de merde gets better:
Part of Mr. Obama's plan included hounding those who developed, approved or carried out Bush policies, despite the enormous pressures of time and circumstance in the months immediately after the September 11 attacks.
We could only hope. But last we checked, Dick Cheney and Donald Rumsfeld still walk the earth.
Image: indepublica
Add a Comment
Please
log in
to post a comment