Day Seven: Mere Trivia
Everything in this world is connected in the weirdest ways, as you are aware.  Take, for example, Johnny Weir, whose tortured soul will be on display tonight.  He's skated in many tournaments in his life, against many different skaters.  One of these skaters — who skated in several U.S. Championships with Johnny over the years — is a guy by the name of Derrick Delmore.  Two salient facts about Derrick: he was three doors down from me in my freshman dorm at The Farm, and he was raised in a town in Maryland known as Silver Spring.  As you all know, Silver Spring is also the name of a song made famous by Fleetwood Mac, and was specifically was recorded during the sessions for the album that would become Rumours.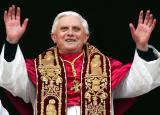 This week, Rumours was named as one of the top ten albums by, oddly enough, L'Osservatore Romano.  This paper is, of course, published by The Vatican.  And who runs The Vatican?
Yes, friends.  Johnny Weir to Pope Benedict XVI in six steps.
[For those people who say that the song is actually called "Silver Springs" — phooey.  You're no fun.  And incidentally — does the Pope know that Fleetwood Mac did enough drugs during the Rumours sessions to make Keith Richards cry?  And that the band members basically engaged in as much adultery as is humanly possible?]
Anyways: open thread for sequins and spandex — plus a replay of whatever Lindsey Vonn pulled off and Hannah Teter's shot at gold in the halfpipe.  (No SI Swimsuit picture here of Hannah.  The Pope would not approve.  Maybe tomorrow.)
Add a Comment
Please
log in
to post a comment