Day Six: Star Turn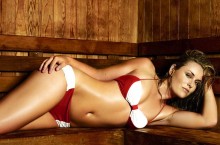 So Lindsay Vonn (r) and her Shin of Destiny (not pictured) are at Whistler today for the wimmins' downhill run.  Apolo Ohno does his thing again tonight, as does Shawn White and Shani Davis.  Thankfully, there's no figure skating to interfere, though NBC of course will do its level best to squeeze in a half-hour of talking about it before the men's final tomorrow night. 
And we actually have a shot (supposedly) in the women's cross-country 1200m sprint race.  And a word on that — have you ever seen the end of a cross-country race?  Jesus: every single time, they cross the line and then immediately collapse in exhaustion.  You don't see that in marathons, or swimming (a good thing — you'd have drownings otherwise), or any other olympic sport.  Kind of incredible, really.
Elsewhere, USA 3:1 Switzerland in men's hockey, in a frankly underwhelming performance.  Though it must be said that the Swiss actually trained as a team in the run-up — only three NHLers in the lineup allowed for that — the U.S. Americans should have done better.  Mark Sunday in your calendars, when they take on Canada in the biggest preliminary matchup of the bunch. 
And the storyline for Lindsey Jacobellis came to an obvious conclusion when she crapped out in the semi and ended up in fifth.  This, once again, leaves Bob Costas wanting for a storyline.  Poor Bob.  Perhaps a cute, 10-minute fluff piece about the noble, majestic beaver?  Nah… Lindsey Vonn stories are — [SHOT CLOCK BUZZER]
Add a Comment
Please
log in
to post a comment