Revenge of the Nerds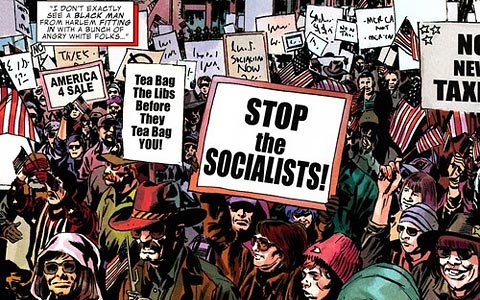 Dear gawd, we should have run with this Wednesday or Thursday, before it got out of hand…
But we didn't, so let's take it from the top.
Fox News, Wednesday:
A "tea bag" reference in a recent Captain America comic book that has angered the Tea Party movement will be removed by Marvel Comics in future editions, the story's writer told FoxNews.com.

In issue No. 602 of Captain America, "Two Americas, Part One," the title hero and The Falcon, a black superhero from New York City, stumble upon a protest rally in Boise, Idaho. They see scores of protesters carrying signs that say "Stop the Socialists!" and "Tea Bag The Libs Before They Tea Bag YOU!"

Captain America says the protest appears to be an "anti-tax thing," and The Falcon jokes that he likely would not be welcomed into the crowd of "angry white folks."
Teabaggers didn't care for the accurate representation of their efforts, so they complained to Marvel. Writer Ed Brubaker backed away from the fracas, saying the sign text was added in production, post-story. Marvel editor-in-chief Joe Quesada also blamed the letterer, saying he was "mortified at his mistake" — although he was using actual teabagger signs as his source material.
And now it's all over the fucking place. Here. You deal with it.
Why Captain America Hates America, Apparently [io9]
Marvel backs down to Tea Party activists over Captain America comic depicting a right-wing protest [ThinkProgress]
Captain America Has a Civil-Libertarian Bent But Iron Man Was Right [Spencer Ackerman/FDL]
Iron Man was right [Ezra Klein/WaPo]
Add a Comment
Please
log in
to post a comment