Sarah Palin Behind the Music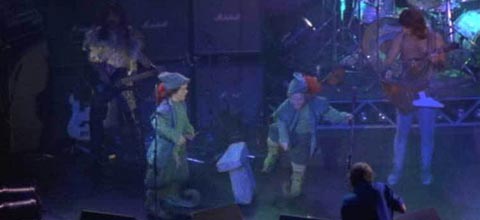 Would you spend $549 to hear Sarah Palin speak? No? Well, how about $19?
She also focused heavily on her trademark lines as a crutch. During one incredulous example of a way to get motivated describing a bed time fairy tale she told to her daughter: "Last night Piper asked me to tell her a bedtime story and I said 'YOU BETCHA,' let me tell you about two brothers named Abel and Cain…"
The crowd was made up mostly of office-workers who opted to come to an "all day business seminar" instead of sitting in their cubicle and so the fanfare was minimal. As I gazed around the audience from my VIP seat — just feet away from the stage — I had the impression that most of those sitting near me were insulted. Sarah Palin was clearly still in campaign mode, but this wasn't a crowd looking for a stump speech.

She ended by spending several minutes with her head down reading from the podium and gave a very abrupt and final "God Bless America" before departing the stage. As she left one man with a thick country drawl leaned over to me and said "you know, she's not that impressive in person."
Far be it from us to read too much into a single anecdotal account. Only it's the first we've heard of Talibunny outside a highly controlled environment since the Katie Couric interview.