Another Day, Another Knife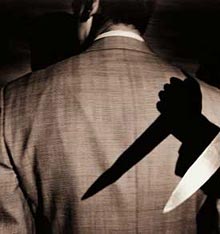 Former Republican House Majority Leader and teabagging auteur Dick Armey is outraged that the New York Times would suggest that he's endorsing the senatorial re-election of the 2008 GOP presidential candidate:
The New York Times reported recently that FreedomWorks chairman Dick Armey has endorsed Sen. John McCain in the GOP primary in Arizona. This is not the case, although this story has been picked up and repeated by countless media personalities and reporters around the country.

This seems to be a good case study in how false information can make its way around the internet and the airwaves before it can be corrected. But we wanted to post a quick statement for all of you who have asked us about this.
False information's a bitch. Especially when it's based on true information:
"It's hard for us to believe that J.D. Hayworth could mount a credible challenge to John McCain. Obviously, we'll watch the race. But J.D. had a fairly short, undistinguished congressional career with virtually no initiative on his part." (Dick Armey, Feb. 3)
If teabaggers are anything (besides illiterate and racist), they're anti-incumbent, not anti-Democrat. And the occasional special election aside, the only incumbents available for target practice right now are Republicans.
Add a Comment
Please
log in
to post a comment