Let the Backstabbing Begin!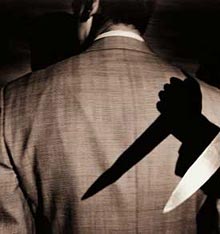 Remember Ronald Reagan's Eleventh Commandment? Don't worry, neither do Republicans:
DEMINT: Well, I'm not going to get involved with this race in Arizona. And if John McCain goes with this health care bill, I'll be his biggest opponent and I think he knows that. But I don't know that he's going to do that. But what we're trying to do is get some new senators from around this country who will stand with us on these key issues.

BECK: This is great news to me. So you are not endorsing him or helping him in Arizona?

DEMINT: No I'm not. I'm not getting involved with — I know J.D. well, and they can have their own race.
This wouldn't have anything to do with SC teabaggers miscegenating with Republicans, would it? How much longer before Sarah Palin takes back her endorsement of Psychogeezer over teabagger favorite J.D. Hayworth? Maybe Sheriff Joe knows something.
Add a Comment
Please
log in
to post a comment