It Has Come to This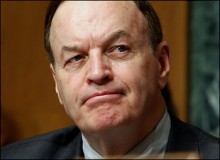 If you want to know how craven the Republican party has become. If you want to know how hypocritical the Republican party has become. If you want to know the extent to which a single shameless individual can make a mockery of our entire form of government, then you need look no further than Alabama Senator Richard Shelby. A prominent member of a minority party that has twisted Senate rules to impose an near-blanket, un-democratic supermajority voting requirement on Senate legislation, Senator Shelby has now pushed the un-democratic envelope further by taking the unprecedented step of blocking every single one of President Barack Obama's presidential appointees until his personal needs and demands are met. And what noble principle or governing philosophy motivates the good Senator, prey tell? Well, nothing other than Pork, ladies and gentlemen:
According to the report, Shelby is holding Obama's nominees hostage until a pair of lucrative programs that would send billions in taxpayer dollars to his home state get back on track. The two programs Shelby wants to move forward or else:

– A $40 billion contract to build air-to-air refueling tankers. From CongressDaily: "Northrop/EADS team would build the planes in Mobile, Ala., but has threatened to pull out of the competition unless the Air Force makes changes to a draft request for proposals." Federal Times offers more details on the tanker deal, and also confirms its connection to the hold.

– An improvised explosive device testing lab for the FBI. From CongressDaily: "[Shelby] is frustrated that the Obama administration won't build" the center, which Shelby earmarked $45 million for in 2008. The center is due to be based "at the Army's Redstone Arsenal."
So there you have it: while t he Teabaggers lecture us about the evils mounting deficits, while the GOP climbs atop its podium and lectures us all on the perils out of control spending, one of their very own has set in motion a maneuver that will create a disastrous precedent: that any single member of the Senate can bring the wheels of government to a grinding halt until the Federal government, and by extension the taxpayers of every other state in the union, shower his constituents with piles of cold, hard cash. Will the Teabaggers now turn on Senator Shelby and denounce him for the peril in which he places our nation's future? Or will they simply brush his tactics aside as trivial and hardly worth mentioning. The world awaits with bated breath.
Add a Comment
Please
log in
to post a comment