Anne Frank's Vagina Again Safe in Culpeper County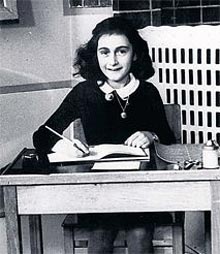 We think this clears things up, but somehow we remain confused:
The Culpeper County school superintendent said Monday that the school system had never formally removed a version of Anne Frank's diary from classrooms following a parental complaint that some passages were objectionable.
Of course, that was how the local rag originally reported it: "school officials immediately chose to pull this version and use an alternative copy." No formality required!
But we'll be generous, and let that pass. Because honestly, we're not sure anything has changed:
Superintendent Bobbi Johnson said Monday that the book will remain a part of English classes, although it may be taught at a different grade level.
Okay: Which grade? The original complaint came from the mother of an eighth-grader, which suggests a class of 13- and 14-year-olds. Anne Frank's diary begins when she's 13, and lasts for two years. Are children of Anne Frank's age not sufficiently mature to read Anne Frank's diary?
There is one mitigating factor: The Concerned Mother did not ask for the book to be removed from her daughter's class — that now looks like an over-reaction by school officials. Instead, Mom "was asking that her daughter not be required to read the book aloud, as the class had been doing."
Y'know, we really can't disagree with that. We've been an eighth-grader. We know exactly what we'd do if we heard a classmate reading aloud the juicy parts. And we strongly doubt it would be edifying.
Add a Comment
Please
log in
to post a comment