Everything You Didn't Want to Know About Keith Olbermann's Sex Life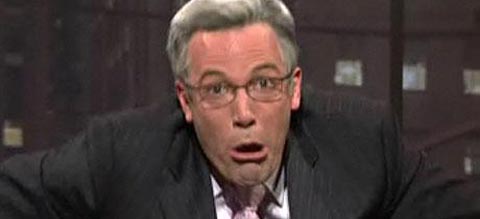 We've often mentioned that we find Countdown to be fine dinnertime entertainment. Weekdays at five is a perfect time for light political news. We doubt we could suffer anything like that at eight, but that's a convenience of living on the Left Coast.
It helps that we don't take Keith Olbermann seriously enough to bother with criticism. You can see the leading questions a mile away, and we enjoy watching guests try to bat them to the side. The show's full of fun foul tips.
Which is why we also enjoy folks who do take Olbermann seriously, as if he was somehow important. The attacks fly from both directions — one side treating him at a hotheaded celebrity who needs to be taken down a peg, the other side treating him as a hotheaded traitor who dares question the Neocon Ascendancy.
Folks like Stuart Schwartz of Liberty University and the American Thinker:
Olbermann does not like women, especially attractive and/or accomplished women. Nor is he particularly fond of men. He is forever the awkward, angry teenager of his high school days who mystified psychologists, the überdork whose cruel taunts of the athletes he covered as a sports broadcaster were legendary, even as he yearned to be thought of as the stud that covers studs. Give it up, a Philadelphia Inquirer sports columnist suggested after watching Olbermann ridicule the appearance of an overweight athlete. He noted that the hefty lefty is "so bloated he looks as if he swallowed Dan Patrick [his ESPN co-anchor] back in 1997."…

Women are anathema to Olbermann. He delights in demeaning them, and the more attractive or accomplished they are, the more malicious he gets. Conservative Congresswoman Michelle Bachman, who relishes her role as policymaker and mother, is a frequent object of his anger; columnist Michelle Malkin is a "big mashed up bag of meat with lipstick" because of her intelligence and traditional values; Sarah Palin is a moronic "Bush in a skirt"; and there's nothing wrong with Hillary Clinton — who had the nerve to oppose Barack Obama in the Democrat primaries — that a good beating won't cure…

Meanwhile, Olbermann's personal problems with women — including his mother — are legion and well-publicized. Never married, he is a 51-year-old eggplant of a man whose dates begin and end with the first. His romantic failures have even played out in the pages of the New York Post, which has since taken down the Page Six item that peeked in his bedroom and described him as "boorish," declaring that "Keith Gets Low Ratings in Bed."
Ummm… dude. You start by proclaiming how Olbermann's ratings make him beneath notice, then you spend a barrel of pixels noticing him. We're obviously no fan of Beck, Rush and Loofah Bill, but at least we wait until one of them is extraordinarily egregious before devoting a moment's thought to writing about them.
Besides, we've noticed a fact error: Bachmann, Malkin and Palin are neither attractive nor accomplished. We await your correction.
Add a Comment
Please
log in
to post a comment