Paultard Stud Celebrates Birthday, Still Missing Half of Birthday Suit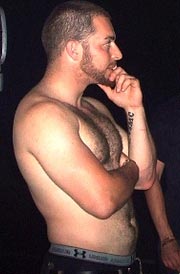 Hey, everybody, Adam Kokesh is celebrating his 27th birthday today! And his New Mexico congressional campaign wants you to celebrate by donating to his Birthday Bomb!
We're quite busy with chores today, alas, so we can't dress up our stock Kokesh Beefcake Photo with dollars stuffed in his waist. And while we considered adding a quickie Stripper Pole, that just reminds us of Martha Stewart, which spoils all the fun.
Add a Comment
Please
log in
to post a comment