Tapedelayblog: Black Eagle v House GOP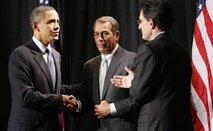 So they're replaying the Brawl in Baltimore on the C-SPAN right now.  Post-jump, a blow-by-blow of what everyone was all excited about this afternoon, as it happened:
2000 (ET) — They're setting it up now with some NYT hack.  Boring.  Which is what C-SPAN does best, naturally.
2002: Aw, the GOP goes to the Salvation Army in Balto.  How noble.  Mike Pence (Ind.) — "It's not like it is when I was coming up."  No kidding?  And now into why the stimulus and "boutique" tax cuts suck.
2006: "Across the board tax cuts" that will help the Salvation Army boy.  Yuck.  And Barry sez 2 million jobs were lost before he got out of the blocks. And then kills 'em with facts.
2012: The ribbon cutting line now. Not nearly as dramatic as it looked in print, to be honest.
2014: Pressed on "across-the-board" again by Pence.  Slaps it down well.  "I gonna want to take a look at your math."  Solid.
2016: Paul Ryan (Wis.) — darling of the economic-conservative types.  Freeze being at elevated level of spending from before.  Line-item veto… a "constitutional" version.  Yeah.
2018: Leaning on economic egg-heads a bit too much for my taste at this point.
2020: "Wasteful spending is spent outside of your district…."  True. Nothing will happen, of course.  But still true.
2022: Shelley Capito (W.Va.) — Coal!  MORE COAL!  Cap and trade is SOCIALISM.  Etc.
2023: Basically offering a trade between DRILL BABY DRILL and cap-and-trade.  See — he's learned NOTHING from the HCR debate.  You given them DRILL BABY DRILL, and they'll not give you an inch on what you want.  Still addicted to bipartisanship a bit too much.
2026: Jason Chaffetz (Utah) —  "We have not been obstructionists."  Credibilty gap right out the gate there.
2028: Smackdown on the open-government front.  Still doesn't explain the C-SPAN thing, but he's right — you couldn't move around in August without hitting a teabagger screaming about something.
2032: Marsha Blackburn (Tenn.) — Teabagger No. 2, of course.  "We have plans on health care."  And then: "we want to work with you."  That was in the first draft of the snake's pitch to Eve, but it got cleaned up.
2035: Crossing state lines.  Not good for transporting minors to whorehouses.  Not good for insurance companies either.  (See also, e.g., credit card companies in Delaware and South Dakota.)
2039: Blowing up the "Bolshevik plot" thing now.
2041: Tom Price (Ga.) — "We been giving you ideas," he whines.
2043: Going back to experts again, against "boilerplate."  And now jumps on tort reform.  Actually, hops on tort reform — wasn't much of a jump.
2048: Pence back in saying that Black Eagle is ignoring them.  Shit — if you were in his shoes, you'd ignore these clowns too.  Indeed, he probably would have been better on ignoring them more.
2052: Peter Roskam (Ill.) — You were better in Springfield.  But Pelosi is screwing everything up.  Of course.
2055: "A failure on my part."  It is remarkable that he says stuff like this.  It ain't just Dubya, either — Jimmy Carter was the last guy, I think, who admitted failures without an impeachment proceeding hanging over his head.  But that was about wimmin. Also.
2057: Jeb Hensarling (Tex.) in re debt.  And then big government.
2100: "The whole question was structured as a talking point."  In other words: shut the fuck up, Jeb.  And he gets angrier as it goes on.
2104: Barry and Paul Ryan should just go to Vermont and make it legal.
2106: There was a comparison, earlier today, between this and something that Aaron Sorkin would write for Jed Bartlett.  It's not terribly off-base.
2109: But that's it.
* * *
Not earth-shattering.  Overhyped as the Showdown to End All Showdowns.  Still some good stuff, though.
Add a Comment
Please
log in
to post a comment