At Least They're Reading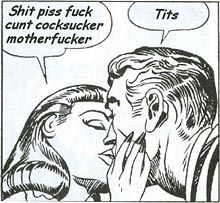 We've long enjoyed our American Heritage Dictionary of the English Language, third edition, primarily because it includes:
a) word histories.
b) dirty words.
For example, between oral hygiene and oral tradition comes oral sex: "Sexual activity involving oral stimulation of one's partner's sex organs."
A definition now deprived from inquiring minds near Riverside, California:
After a parent complained about an elementary school student stumbling across "oral sex" in a classroom dictionary, Menifee Union School District officials decided to pull Merriam Webster's 10th edition from all school shelves earlier this week…

"It's hard to sit and read the dictionary, but we'll be looking to find other things of a graphic nature," [district spokeswoman Betti] Cadmus said. She explained that other dictionary entries defining human anatomy would probably not be cause for alarm.
Thank god asshole ("A thoroughly contemptible, detestable person") is safe.
Parent Emanuel Chavez disagrees with the decision, using an example that has us erupting in shits ("Foolishness; nonsense") and giggles ("To laugh with repeated short, spasmodic sounds"):
"Censorship in the schools, really? Pretty soon the only dictionary in the school library will be the Bert and Ernie dictionary."
Oh, Mr. Chavez. We're talking about oral sex, not anal (unlisted).
Add a Comment
Please
log in
to post a comment