Andre Bauer Meant to Say "Bottom-Feeding Scum"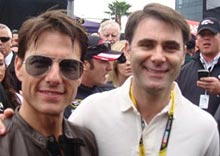 We still don't know what it is about South Carolina that reinforces a Culture of Douchebaggery, but Lieutenant Governor Andre Bauer is doing his best to keep up with the pack:
In a phone interview with CNN, Bauer, a Republican candidate for governor, said, "I wish I had used a different metaphor." Bauer told an audience Friday that people receiving government assistance are like "stray animals" because "they breed" and "don't know any better."

"I never intended to tie people to animals," he said, before opting for a kinder animal metaphor: "If you have a cat, if you take it in your house and feed it and love it, what happens when you go out of
town?"
Ummm… Ask the neighbors?
You do have neighbors, don't you?
Or are they avoiding you because you associate with couch-jumping believers in rogue space aliens?
Add a Comment
Please
log in
to post a comment