The Government We Deserve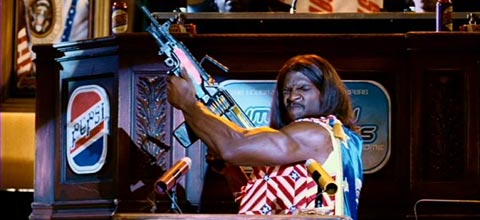 We came blessedly early to the insight that has defined our adult political life.
We can even date it: October 28, 1980. The Reagan-Carter debate. Our first presidential election as a voter.
Jimmy was flat that night — "Reagan-Kemp-Roth"? Really? — but his disappointing performance wasn't notable. Instead, what caught our attention was Ronnie's manufactured charm — "There you go again," and all that — and with growing horror, we had the insight phrased before the debate was over:
Americans want to be lied to.
In that moment, we knew Reagan would win. And we knew why. Reagan wasn't selling Americans anything they didn't want to buy. Far from it: Americans wanted the Lie. They craved it. They weren't being fooled — they were being satisfied.
So we're having a hard time, almost thirty years on, getting worked up by Thursday's Supreme Court decision granting corporations unlimited free-speech rights. We having a hard time taking seriously the cries that the ruling will undermine the sanctity of our government. We're having a hard time accepting the notion that unrestrained corporate political spending makes a difference.
Nothing prevents Americans — or a decisive majority of Americans — from seeing things as they are. All the advertising in the world couldn't sell New Coke. All the promotion in the world can't stop Americans from abandoning television in general, and network television in particular, as they have over a generation. Have you heard about the latest iPhone-killer? No, the one after that. No, the other one.
Nothing forces Americans to watch Fox News. Or listen to Rush. Or read Palin. Or swallow their lies.
We as a nation, as a people, are willingly, happily, aggressively ignorant.
By choice.
But go ahead, fight the good fight. Just don't expect Americans to thank you for saving their sorry asses. They don't want to know about it.
Add a Comment
Please
log in
to post a comment