It's the Next Best Thing to Blaming the Devil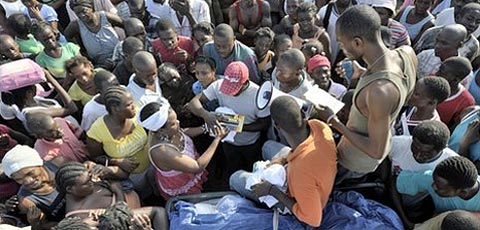 The NRO's Jonah Goldberg has some Tough Hate for Haiti:
The sad truth about Haiti isn't simply that it is poor, but that it has a poverty culture. Yes, it has had awful luck. Absolutely, it has been exploited, abused and betrayed ever since its days as a slave colony. So, if it alleviates Western guilt to say that Haiti's poverty stems entirely from a legacy of racism and colonialism, fine. But Haiti has been independent and the poorest country in the hemisphere for a long time.

Even if blame lies everywhere except among the victims themselves, it doesn't change the fact that Haiti will never get out of grinding poverty until it abandons much of its culture.
Dude. Six-figure death toll. Bodies buried with bulldozers. No infrastructure left. 1.5 million homeless. "Tens of thousands without access to food, water and medical supplies."
We don't care if some of your best in-laws are Haitians. We don't care what you think about James Cameron. And we really don't care about how you think that starving, homeless, devastated people should pick themselves up by their bootstraps.
Add a Comment
Please
log in
to post a comment