Sarah Palin: Box-Office Poison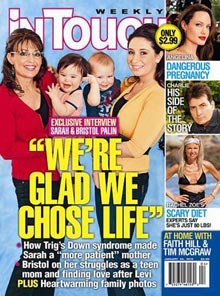 Rupert Murdoch's Post has some distressing news about Rupert Murdoch's Fox News employee, whose book was published by Rupert Murdoch's HarperCollins:
In Touch Weekly's gamble on Sarah Palin didn't pay off. The magazine paid $100,000 for a cover story on the former Alaska governor and her daughter, Bristol, for the current issue. But, despite Palin's huge book sales and TV ratings, sources said In Touch sold about 500,000 copies on newsstands, about half the number it sold a few weeks ago with the late Brittany Murphy on the cover.
Maybe politics doesn't sell supermarket tabloids. Or maybe it has something to do with that CBS poll showing a majority of Republicans don't want Sarah Palin to run for President. Or maybe only Rupert knows how to make money off America's most celebrated loser and quitter.
Or maybe printing DANGEROUS PREGNANCY next to a photo of Talibunny and Bristol with their babies wasn't such a great idea.
Add a Comment
Please
log in
to post a comment