Here's a Team for Rush to Invest In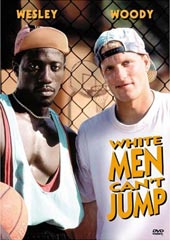 And Sarah Palin can play point guard:
A new professional basketball league boasting rosters made up exclusively of white Americans has its eyes set on Augusta, but the team isn't receiving a warm welcome.

The All-American Basketball Alliance announced in a news release Sunday evening that it intends to start its inaugural season in June and hopes Augusta will be one of 12 cities with a team.

"Only players that are natural born United States citizens with both parents of Caucasian race are eligible to play in the league," the statement said.
Racism? Of course not, says AABA Commissioner Don "Moose" "No, we're not making this up" Lewis:
"There's nothing hatred about what we're doing," he said. "I don't hate anyone of color. But people of white, American-born citizens are in the minority now. Here's a league for white players to play fundamental basketball, which they like."

Lewis said he wants to emphasize fundamental basketball instead of "street-ball" played by "people of color."
No word on whether they'll be using fruit baskets in their return to fundamentals.
Add a Comment
Please
log in
to post a comment