Profiles in Decency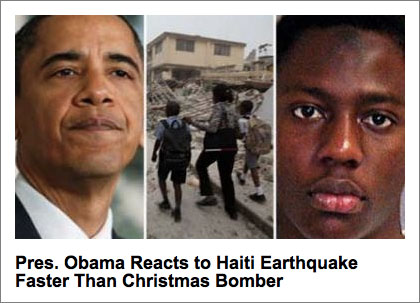 It's one thing for Pat Robertson, or even Rush Limbaugh, to be apocalyptically vulgar in their responses to the Haiti earthquake. It's quite another if their asshatery catches on with other wingnuts. So we thought we'd check in with the Usual Suspects and see whether they're being usually suspicious.
Pat Robertson has been a passionate and colorful commentator for Conservative issues, and I value him for much of that; but this time, he is way out of line and making statements that are way above his pay grade. When you're wrong, you're wrong. And on this one, he is definitely wrong.
If these two earthquakes are legitimate evidence of God's displeasure, what are we to make of the (much more numerous) instances in history in which sinful nations were not punished in any conspicuous way?
As we learn more and more about Haiti, we know for sure that nation is truly devastated. The Salvation Army is where I always give money. The organization gives a phenomenal amount of its proceeds to the cause, not to administrative overhead.

Folks, you know I always say give to candidates. But candidates can wait. Relief cannot. Please give what you can.
I lived near the epicenter of the Northridge quake in the San Fernando Valley in 1994 and will never forget the terror and chaos that ensued. It measured 6.7 on the Richter scale…

"This is a time when we are reminded of the common humanity that we all share," Mr. Obama said…

And on that, the president is absolutely correct.
Granted, you can always find exceptions to the rule — Hello, Fox Nation homepage banner! — but it's nice to be reminded that, despite our well-documented evidence to the contrary, we do share a common humanity.
Add a Comment
Please
log in
to post a comment