6.5 Earthquake Hits Northern California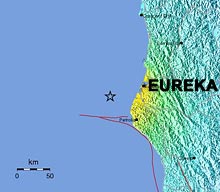 4:27 p.m. PT, 26 miles off Eureka.
Let's get you started with the USGS Earthquake Map, which every Californian should have bookmarked.
LA Times, 5 p.m.:
Sandra Hall, owner of Antiques and Goodies in Eureka, said the quake moved her shop in all directions.

Her store is now littered with broken lamps, dishes, and wardrobe items. She said there were at least four people in her store when the quake struck. A couple managed to run out of the store's main entrance, while two women took cover under a table.

"We've been through a lot of earthquakes but I can't recall there ever being any this bad," Hall said.
AP, 5:26 p.m.:
The National Oceanic and Atmospheric Administration says there is no threat of the quake generating a tsunami.

USGS geophysicist Richard Buckmaster says the quake was felt as far south as Capitola in central California, and as far north as Tiller in central Oregon.
LA Times, 5:50 p.m.: Other than TVs toppling and a mall evacuated, no major damage or injuries yet reported. We'll let the story rest here, unless we hear something later.
Add a Comment
Please
log in
to post a comment