President Rorschach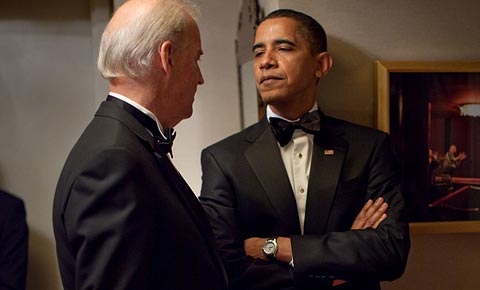 Back during the Democratic convention, we enjoyed lurking at PUMA liveblogs — with every cutaway to Michelle Obama sitting in the audience, there would be a handful of comments remarking on her "scowl". Part of us wanted Obama to win just so we could enjoy Michelle looming over the Bitters as First Lady.
At least there was a flimsy excuse for their displeasure: If you were watching the convention on TV, the Michelle shots were inevitable. By contrast, Instapundit Glenn Reynolds had to dig through the White House Flickr stream — no, we never heard of it either — to fetch this winner of Barry & Plugz from the Kennedy Center Honors, posted December 16.
"Analyze the body language," Glenn says knowingly. Well, um, okay, Joe looks like a putz, and Barry looks like he just slipped out of a wetsuit while headed for his first martini.
Anybody else? You, over there, the crazy lady who liked our anti-Wonkette post:
People who like Obama are blinded to the way other people see him. This picture strongly says cool to people who love him, but it doesn't read that way to others… including the many, many people who don't even want a cool President.
We certainly don't mind having a President who can rock a tux, Ann, but that's not why we originally supported him. (For that matter, many, many people voted for him, cool or not.) Nor is Obama's classic evening wear the reason for our recent lack of enthusiasm.
But if you folks want to obsess over a thoroughly innocuous photo, fine by us. It's not what you make of it, but the fact you're making anything of it at all.
"Damn, Obama looks like James Bond in this picture." [Althouse]
Add a Comment
Please
log in
to post a comment