Eschatology for Dummies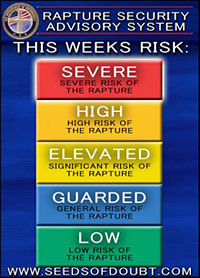 What better way to kick off a new year than a fresh prediction of our divine demise?
Mark your calendars: May 21, 2011. Harold Camping swears by it.
Never mind that Harold also swore by September 6, 1994. Sorry. Calculation error. Hell, anybody could have made that mistake. But hey, it was good practice for the people who gathered that day at the Veterans Memorial Building in Alameda, California. Holding their bibles open to Heaven. Waiting to die.
Anyway, where were we? Right. 2011. For sure. How sure? Harold figures it this way:
"Christ hung on the cross April 1, 33 A.D.," he began. "Now go to April 1 of 2011 A.D., and that's 1,978 years."

Camping then multiplied 1,978 by 365.2422 days — the number of days in each solar year, not to be confused with a calendar year.

Next, Camping noted that April 1 to May 21 encompasses 51 days. Add 51 to the sum of previous multiplication total, and it equals 722,500.

Camping realized that (5 x 10 x 17) x (5 x 10 x 17) = 722,500.

Or put into words: (Atonement x Completeness x Heaven), squared.
If you're doing the math at home — and who wouldn't? — you may question whether Harold should be using instead the mean tropical year of 365.24219 days, or the vernal equinox year of 365.2424 days. Or if you're comfy with 365.2422 (the Council of Trent prefers 365.2425), you may still wonder whether Harold accounts for the ten days lost a few centuries back when Pope Gregory switched calendars on us. It's also unclear whether we even need to mess with solar years, since the Gregorian calendar is supposed to account for such things with leap years and centuries. And if you're really picky, it's an open question whether we can rely with certainty on the date of a mundane provincial execution some two thousand years ago.
But never mind that. Eschatology is a crowded field, and competing doomithologist James Kreuger thinks Harold is full of shit. "For all his learning," explains Kreuger, "Camping makes a classic beginner's mistake when he sets a date for Christ's return."
Kreuger's trump card? Matthew 24:36 says only God knows — and God ain't snitching.
Both of them are just being silly, of course. It's Matthew 24:37 that holds the secret: "But as the days of Noah were, so shall also the coming of the Son of man be."
Noah, as everyone knows, lived to 950 — and sure enough, the Rapture indeed happened on April 1, 983. We've been living a hell on Earth ever since.
Family Radio [Harold Camping]
Add a Comment
Please
log in
to post a comment