Groundhog Day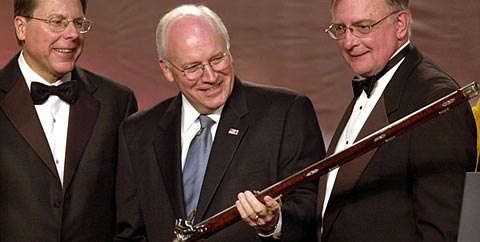 We were wondering when Dick would crawl out from under his secure & undisclosed rock:
[W]e are at war and when President Obama pretends we aren't, it makes us less safe," Cheney said in a statement to POLITICO. "Why doesn't he want to admit we're at war? It doesn't fit with the view of the world he brought with him to the Oval Office. It doesn't fit with what seems to be the goal of his presidency — social transformation — the restructuring of American society."
But we have to give the prize to "former Romney spokesman Kevin Madden", who despite being completely unknown, managed to get onto CNN this morning to drop this whopper:
You have to also remember the fact that the president being on vacation in Hawaii, it's much different than being in Texas. Hawaii to many Americans seems like a foreign place.
Actually, Texas seems quite foreign to us. But if you're keeping score, the Sarah Palin Hawaiian Yellow Peril meme is taking hold.
Madden defends GOP's hypocritical attacks: Obama's in Hawaii, which 'seems like a foreign place.' [ThinkProgress]
Add a Comment
Please
log in
to post a comment