The War on Christmas Trees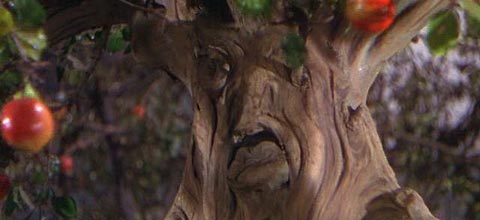 My husband recently read an article on the Web that the Bible forbids Christians from having a Christmas tree in their house (Jeremiah 10:3.) was the Bible verse that the article listed. Our children are going to be crushed if we don't have a tree this Christmas. What can I do?

Signed,
Peggy
Dear Peggy,
You, your husband, and your whiny children are well and truly fucked. Your husband has discovered the dirty secret of Christmas: Everything involved in our celebration of the holiday stems from pagan rituals, developed by Satan millennia ago as a ticking timebomb that not even Jack Bauer can defuse before your life takes a commercial break.
You and your family will indeed burn in Hell if you allow this totem of Evil into your home. In fact, if you even need to ask, you're already doomed. When God calls His children to Heaven, you, your family, and your Christmas tree will be Left Behind, facing the wrath of socialist single-payer healthcare that will quickly be passed in the absence of the faithful. We would pray for your soul if you hadn't shown yourself unworthy of pity.
You ask whether Jeremiah is the paintball stain on your armor of righteousness. Let's review:
10:2 Thus saith the LORD, Learn not the way of the heathen, and be not dismayed at the signs of heaven; for the heathen are dismayed at them.

10:3 For the customs of the people are vain: for one cutteth a tree out of the forest, the work of the hands of the workman, with the axe.

10:4 They deck it with silver and with gold; they fasten it with nails and with hammers, that it move not.
There it is, plain as everlasting light: Beelzebub has you by the shorthairs.
But heck, no point punishing the kids for your wickedness — buy the tree, and decorate it to your shriveled heart's delight. Because if you're that concerned about wooden idols in your home, we suspect there's already one hanging on your wall that has you nailed.
Signed,
Nojo, D.D.
Author of Eschatology for Dummies and Damn You All to Hell!
Add a Comment
Please
log in
to post a comment